Note: Partition recovery can only be done on version 11.0 and higher and on devices with an SSD.
Recovery is used to repair system files or to revert a partition to the originally installed version.  Recovery does not overwrite or change configuration files.

If you cannot boot to a particular partition on your Ecessa device, you can attempt to recover that partition using the recovery tool accessible via the GRUB boot menu. First you will need access to the CLI using a console connection. The port settings for a console connection are as follows:
| Baud Rate | Data Bits | Parity | Stop Bits | Flow Control |
| --- | --- | --- | --- | --- |
| 57600 | 8 | None | 1 | No |
Once you have console access, start booting up the device and press the ESC key to halt the boot process once you see the GRUB menu.  Then use the arrow keys and press Enter to select the Ecessa Recovery partition.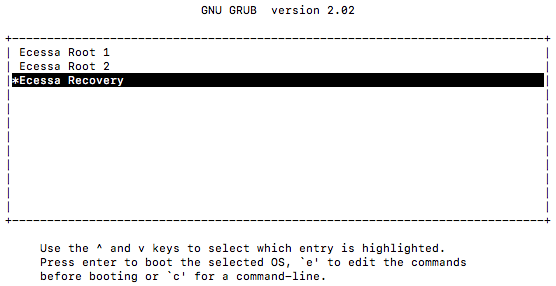 The device will then boot from the recovery partition and ask you what partition you would like to attempt to recover.  Enter the partition to be recovered and then confirm this selection with the Y or N key.

Once you have confirmed your selection, the Ecessa device will overwrite the selected partition with the Ecessa Recovery partition and attempt to boot.