This product includes GeoLite2 data created by MaxMind, available from http://www.maxmind.com.
The Geoblocking feature is available in versions 12.0.0 and newer. Geoblocking allows all traffic from specified countries to be blocked.
MaxMind License
To use Geoblocking a maxmind.com GeoLite2 account must be created by signing up. After creating an account a MaxMind license can be generated by navigating to My Account -> Manage License Keys -> Generate new license key. When generating the license select "No" when asked "Will this key be used for GeoIP Update?".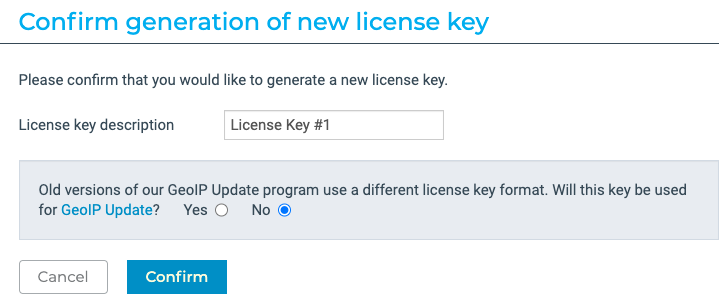 IMPORTANT NOTE: Wait at least 5 minutes after generating a license before attempting to use it in the Ecessa configuration. Licenses take some time to become active and the data download will fail if the license is used to soon.
Ecessa Configuration
Enter the generated MaxMind license key in the MaxMind GeoLite2 License Key field and click Activate to save the license.
Available countries are listed on the left and can be moved to the blocked countries field on the right by selecting the country and clicking the > button. To move all countries use the >> or << button. For example, to block all countries except the United States first click >> to add all countries to the blocked list then select United States and click < to remove only it.
To ensure the accuracy of Geoblocking the Update Schedule should be configured so that the MaxMind data is updated automatically. Currently MaxMind updates the GeoLite2 data weekly.
Whitelisting can be used in cases where IPs are either erroneously blocked or to allow specific IPs to connect while still blocking the rest of the country.