Traditional On-Premise Deployment – Palo Alto Networks and Ecessa Physical Appliances In-Line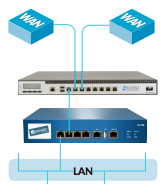 Challenge: The customer has a complex network that requires local appliances for specific business applications, disaster recovery or security compliance requirements; they want state-of-the-art security management and resiliency. The customer may already have a firewall or WAN management device at each location and want to keep or upgrade that solution.
Solution: Deploy the Palo Alto Networks security solution and Ecessa WANworX device in-line with core switch and ISP routers. Have the Palo Alto Networks appliance configured for all local firewall and security rules and have the Ecessa appliance direct, prioritize and load balance traffic across all available connections.
Benefits: This solution provides the best level of local security and control, optimizing the capabilities of each device. The customer has complete control over policy management and does not rely on or require a connection to the internet for routing traffic within the network.
Hybrid Edge Deployment – Ecessa On-Premise With Virtual Palo Alto Networks in the Cloud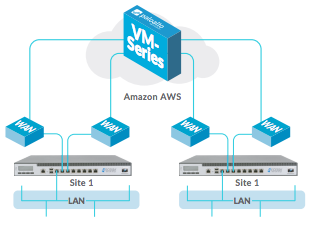 Challenge: The customer has a large network with multiple remote locations that all need security and resiliency features; the cost of deploying, upgrading or replacing older appliances is too high.
Solution: Deploy the Ecessa WANworX device in-line with core switches and ISP routers. The Ecessa device will create a secure VPN connection to Palo Alto Networks virtual instances hosted in the cloud.
Additional Benefit: This solution offers the most flexible and cost-effective deployment for large, remote locations (e.g., retail storefronts, branch offices). It allows for resilient network connectivity while enabling state-of-the-art security capabilities from anywhere. This solution can scale quickly to support growth or the reallocation of resources. It also reduces the number of devices required at the edge while still achieving the improved performance customers need.