To edit a WAN click on the WAN Alias.  To add a WAN click on the Add New WAN button.  To delete one or more WANs select the row(s) and click the Deleete Selected WAN(s) button.
When adding a WAN you must first select a WAN Type.  After the type is selected the necessary fields for configuration type will be displayed.  When done configuring the new WAN click the Activate button.
The available WAN Type options are displayed below.
Static
A Static IP Requires the IP/Mask and the Gateway of the upstream device to connect to.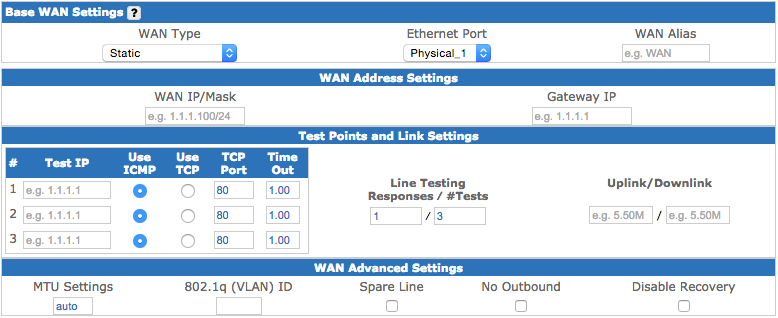 DHCP
Use DHCP (Dynamic Host Control Protocol) to automatically discover your WAN subnet.

PPPoE
Point-to-Point Protocol over Ethernet, is a network protocol for encapsulating Point-to-Point Protocol (PPP) frames inside Ethernet frames. It is used mainly with ADSL services where individual users connect to the ADSL transceiver (modem) over Ethernet.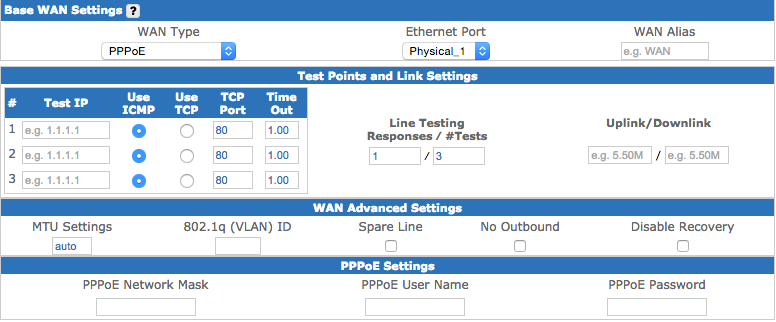 Translucent
This allows you to keep the same gateway on your firewall to the modem on the WAN side of the Ecessa device. This is recommended over a Routed WAN. The gateway of this WAN can be outside the WAN subnet.  When creating a Translucent WAN you may optionally have the Ecessa automatically create the corresponding LAN in the Translucent LAN Settings section.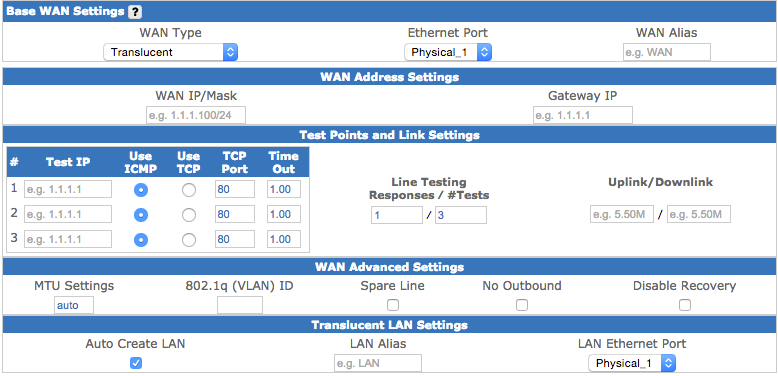 Routed
By default all traffic is NAT'd through the WVDC™. Routing mode should be enabled when there are publicly routable IP addresses in your LAN.
NOTE: The following steps are recommended to configure the Routing feature:
1. Configure the routing WAN port and LAN port to be in physically isolated networks.
2. The WAN IP, LAN IP and the firewall's IP should be in the same network as the Router.
3. Ecessa's WAN network should be a subnet of the Routed LAN network on the Ecessa.
4. Change the firewall's gateway to point to the LAN port of the Ecessa.
5. Change the gateway of the Ecessa's WAN port to point to the router.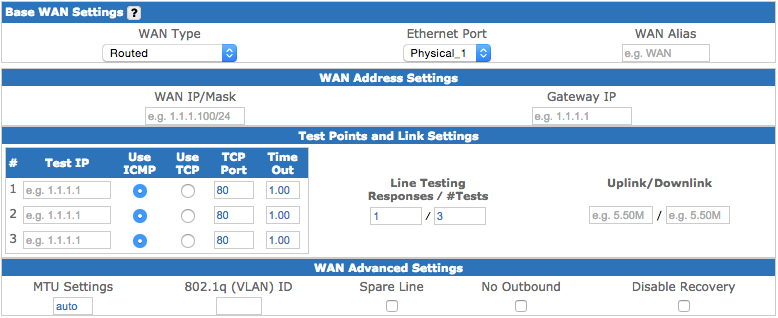 IPv6-in-IPv4 Tunnel
This allows IPv6-in-IPv4 tunnel mode, to tunnel an IPv6 WAN over IPv4. This generally requires a tunnelbroker to terminate the other end. Requires Local IPv4 WAN, and a Remote Endpoint