To configure Email Alerts and Periodic Reports, log into the Ecessa appliance via the web interface then go to Services -> Configure Email Alerts.  In versions 10.6.4 and newer Email Alerts has been renamed to Alerts.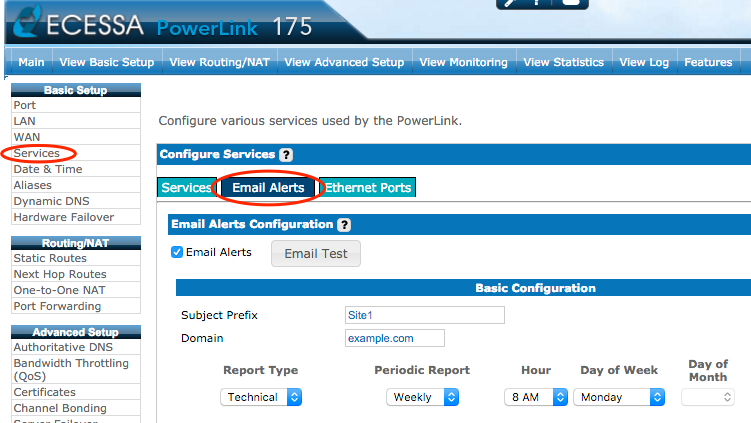 The following screenshot shows an example for how Email Alerts and Periodic Reports can be configured.
The Subject Prefix is optional, however, can be useful for identifying a unit if managing multiple sites. The Domain field specifies the domain the Ecessa appliance will use to send emails (for this example, WaaS@example.com).
The unit in the screenshot below has the reporting feature enabled. There are three Report types which offer varying degrees of detailed information – Technical, Basic, and Minimal. The report frequency can be set to Daily, Weekly, Monthly, or Never. Finally, depending on the report frequency, the Hour, Day of Week, or Day of Month can be configured as desired.
The Recipients field may include multiple addresses separated by a space, assuming that all specified recipients use the same mail server. If using an email service, such as Google mail, the configuration may require additional information such as shown below:
After the desired recipients are added, the Email Alerts and Periodic Reports can be tested by using the Email Test and Email Report Now buttons. If the Ecessa appliance is unable to properly send the email, a message will be reported in the logs (viewed by clicking the View Log button in the top toolbar). A log message will not appear if the email was sent successfully.
The View Report Now button will display the Periodic Report. The following screenshot shows an example of the Technical report: